Taumarunui Integrated Healthcare Model
If you are looking for advice on who you should see about a particular health issue please look at the Health Advice in Taumarunui - Who You Should See flyer in the Documents Link panel at the bottom of this page.
What is the Taumarunui Integrated Healthcare Model?
The Integrated Healthcare Model is about health services working together to best meet the health needs of the Taumarunui Community, with a focus on strengthening primary care to keep people well and cared for locally. It was developed from the realisation that the status quo was not sustainable.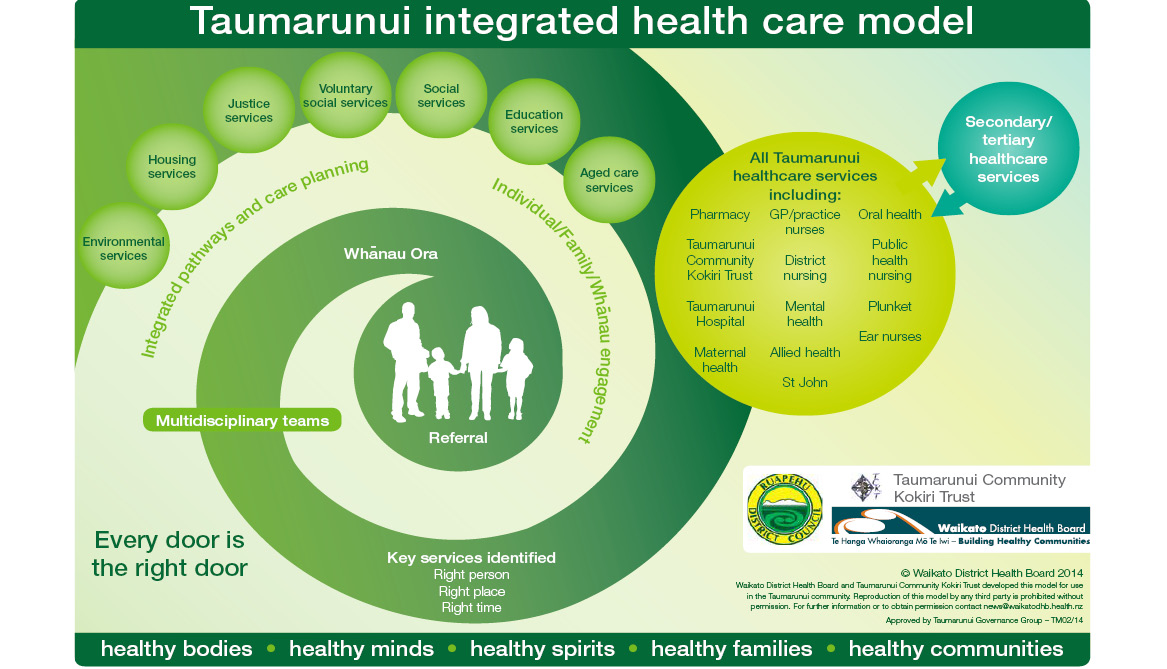 The purpose of the model is to:
Engage collaboratively to provide integrated health care for our people.
Make the best use of valuable health resources.
Work together around common goals.
General principles
Whānau Ora.
Every door is the right door.
The right care provided at the right place by the right person at the right time.
Reduce health inequalities.
Collaboration and integration.
Best use of healthcare workforce.
Background challenges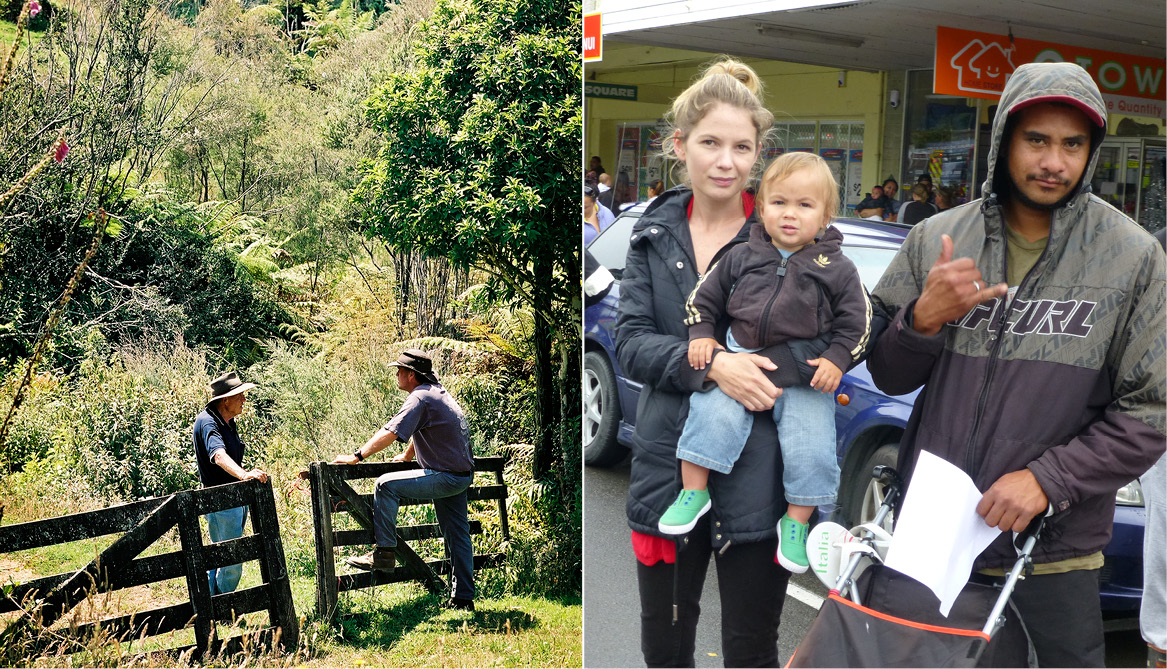 There are multiple inter-related factors influencing the vulnerability of heath service delivery in the Taumarunui district including:
An ageing workforce.
Difficulties in attracting and retaining a health care workforce.
Increasing demands for services.
Increasingly fragmented services which are inefficient and waste resources.
High inter-hospital transfer rates.
Taumarunui is geographically isolated, has an ageing population, a high proportion of Māori and a high proportion of people living in low socio-economic areas.
In the past there has been a lack of general practitioners within the area, forcing a reliance on the hospital as the provider of primary and low-level secondary care.
A report commissioned in 2011 indicated that an appropriate vision for Taumarunui was that of integrated and co-located workforces. A three-day workshop held in Taumarunui in June 2012 involved a number of interested parties who agreed to develop a comprehensive local health plan to ensure local services were aware of what each was doing in the community and how they could work together in a more sustainable way.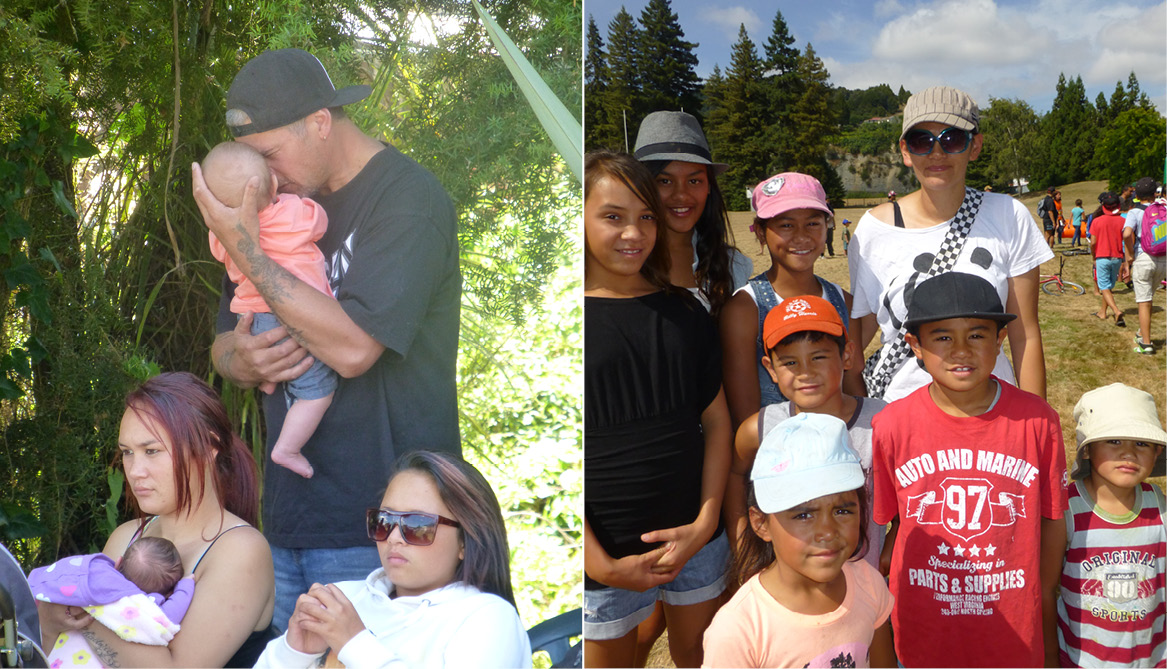 Strong feedback was received that there was a need to work differently, however the option of a single employer and/or a combined workforce and the option to locate services physically together were not supported.
Building trust within the community and goodwill to work together is our key requirement; therefore the option of a single workforce and co-locating services has been set aside in favour of a fully integrated model.
Governance
Following the 2012 workshop a governance group was established to oversee the work and the journey towards integration.
The governance group comprises representatives of local providers, the mayor and local councillors, and Waikato DHB, and other co-opted members as appropriate.
| Governance Group members | |
| --- | --- |
| Don Cameron | Mayor Ruapehu District Council |
| Jill Dibble | Director, Community & Southern Rural Health Services, Waikato DHB |
| Christine Brears | CEO, Taumarunui Community Kokiri Trust |
| Paul Malpass | Health Waikato Advisory Committee representative |
| Alan Turton | Chair, Taumarunui Community Health Forum |
| Graeme Cosford | Taumarunui Ward Councillor |
| Mark Fredricks | Regional Manager St John Ambulance |
| Kamiria Gosman | Board member, Taumarunui Community Kokiri Trust |
| Maggie Clayton | Director, Clayton & Hayes Unichem Pharmacy |
| Isabel Roderick | Board member, Taumarunui Community Kokiri Trust |
Where we are at
The Integrated Health Service working group was established to implement the model. This group reports back to the Governance group. A number of initiatives have been undertaken that show the value of working together and the benefits for the local community.
Healthcare pathways have been developed. These support people with various health needs to access the right health care by the right services in timely way. Current active pathways include:
Child Asthma referral pathway.
Child Oral Health referral pathway.
Sore Throat referral pathway.
Whānau Ora pathway.
Prescription Medicine pathway.
Medication Compliance pathway.
Older Persons referral pathway.
Smoking Cessation referral pathway.
Taking advantage of formal and informal opportunities that now exist under the model, health care providers continue to gain greater understanding of how they can work together to improve the health of their community.
Staff education is being shared across health providers. This supports ongoing development of local staff and strengthens the relationships between local health care workers.
The Telehealth equipment at Taumarunui Hospital is also being used to link to Waikato DHB education days held in Hamilton. This provides additional training opportunities without the need to travel - a major issue for our and other rural communities.
Contact Us
The Integrated Health services working group is keen to collaborate with any health providers in Taumarunui to continue to deliver the benefits this model of care has provided for the local community so far.
If you are interested in finding out any more about the model or any of the initiatives please contact:
Penny Neal - Taumarunui Integrated Healthcare Model Project Manager 07 896 0020 or 027 512 9011.
Document Links
The information on this webpage has been provided by the Taumarunui Integrated Healthcare Model Governance Group. Any queries please contact Penny Neal as above.