Dark Sky Ruapehu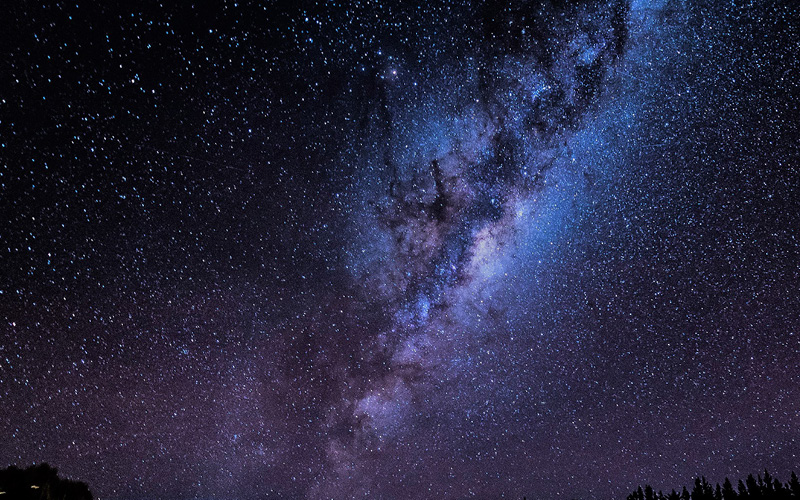 Ruapehu Dark Sky Project
Ruapehu is remote and has amazing opportunities to enjoy the night sky. We would like to enhance the experience for residents and tourists to enjoy the pristine night skies above Ruapehu.
While we are at the beginning of this journey to enhance the Dark Sky experience, we are sharing some information to understand what Dark Sky is, and how to be part of the journey.
Our next step is to develop a Dark Sky strategy to put into place some steps to achieving that better and enhanced experience.
Those who have experienced the wonder of dark skies will appreciate the need to protect it in the same way we protect our air quality, water quality, land and marine environments, ecosystems and biodiversity.
New Zealand's Status
In New Zealand we can see more stars than anywhere else on Earth. We have direct line of sight towards the centre of our galaxy, the Milky Way. Both our Polynesian and European ancestors navigated here by the stars. Stars are in our heritage.
While more than 80% of the world live under light-polluted skies and the Milky Way is hidden from more than ⅓ of humanity, the World Atlas reports that New Zealand's can see the Milky Way from an impressive 96.5% of our land area with 53.1% of it containing pristine night skies.
While this is exciting, we know that the majority of people are living in cities and towns, which emit high-levels of light pollution, so only 16.6% of New Zealanders can see the Milky Way and only 2.8% live under pristine night skies.
New Zealand is home to the world's largest Dark Sky Reserve, the Aoraki Mackenzie Dark Sky Reserve . In addition, New Zealand's third-largest island is recognised as the Stewart Island/Rakiura Dark Sky Sanctuary.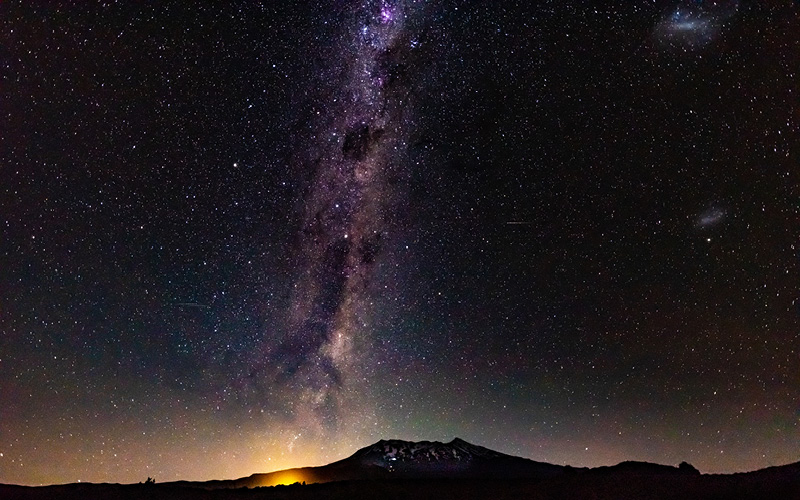 What is Light Pollution?

Light pollution is the presence of artificial light in our night environment. It is exacerbated by excessive, misdirected or obtrusive use of light and is a major side effect of urbanisation.
Components of light pollution include:
Glare: excessive brightness that causes visual discomfort
Skyglow: brightening of the night sky over inhabited areas
Light trespass: light falling where it is not intended or needed
Clutter: bright, confusing and excessive groupings of light sources
The increased and widespread use of artificial light at night is not only impairing our view of the universe, it is adversely affecting our environment, safety, energy and health.
Link to a World without Light Pollution
https://www.youtube.com/watch?v=XATnP-nZjmk
Sources of light pollution
Its sources include building exterior and interior lighting, advertising, commercial properties, offices, factories, streetlights, and illuminated sporting venues. Much outdoor lighting used at night is inefficient, overly bright, poorly targeted, improperly shielded, and, in many cases, completely unnecessary. This light, and the electricity used to create it, is being wasted by spilling it into the sky, rather than focusing it on to the actual objects and areas that people want illuminated.
The inappropriate or excessive use of artificial light – known as light pollution – can have serious environmental consequences for humans, wildlife, and our climate.
Components of light pollution include:
Below is a list of tactics and actions you can take to immediately help. We hope you'll join us on the journey.
LEDs and compact fluorescents (CFLs) can help reduce energy use and protect the environment, but only warm-colored bulbs should be used.
Dimmers, motion sensors and timers can help to reduce average illumination levels and save even more energy.
Outdoor lighting fixtures that shield the light source to minimize glare and light trespass help prevent light pollution.
Switching to LED lighting allows for reduced illuminance without compromising visibility.
Turn off unnecessary indoor lighting – particularly in empty office buildings at night.
Avoid blue lights at night
Blue-rich white light sources are also known to increase glare and compromise human vision, especially in the aging eye. These lights create potential road safety problems for motorists and pedestrians alike. In natural settings, blue light at night has been shown to adversely affect wildlife behavior and reproduction. This particularly true in cities, which are often stopover points for migratory species.
Outdoor lighting with strong blue content is likely to worsen skyglow because it has a significantly larger geographic reach than lighting consisting of less blue.
IDA recommends that only warm light sources be used for outdoor lighting. This includes Low-pressure Sodium (LPS), High-pressure Sodium (HPS) and low-color-temperature LEDs.
Use "warm" or filtered LEDs (CCT < 3,000 K; S/P ratio < 1.2) to minimize blue emission
Links
International Dark Sky Association - International Dark-Sky Association
The International Dark Sky Places Program offers five types of designations:
Research
Light at night and the various forms of light pollution have measurable effects on humans, nighttime ecosystems and more. There is a growing body of scientific research that is attempting to measure and understand these effects. IDA, along with the Loss of the Night Network, maintains a comprehensive, searchable database of scientific publications on artificial light at night. The only database of its kind, the Artificial Light at Night (ALAN) Research Literature Database provides references to scientific literature on all aspects of artificial light at night research