Taumarunui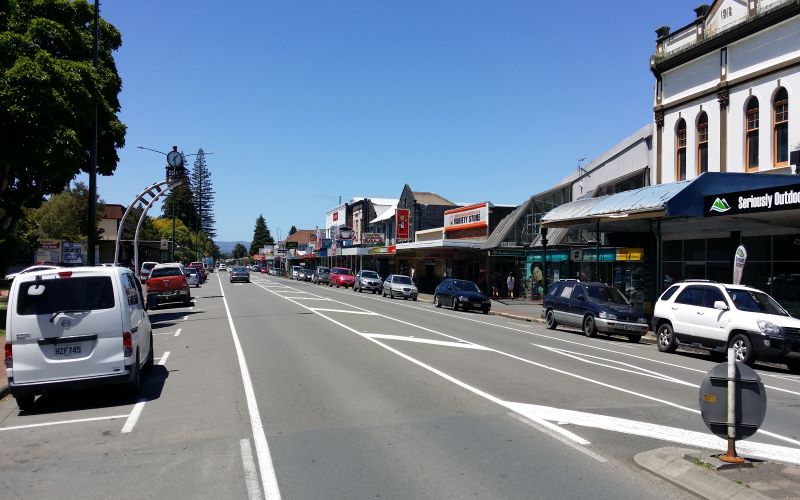 December 2018
Good progress as been made on Taumarunui's Hakiaha Street revitalisation projects with the road works for phase 1. on schedule to be completed before Christmas. In February work will start on phase 3. the landscaping and gardening between the clock tower and the old library site.
The Hakiaha St development has been broken into five phases as follows:
Phase 1 (complete).
Realignment of kerb and channel and parking to the front and surrounds of Railway Station building.
Removing the angle parking lot to the left of the station.
Moving the bus bay from the front of the building to slightly further to the south.
Creating angle parking to replace those parks removed to allow for the landscaping works.
These road works will allow the development of new entrances and access to the new tourism hub and to integrate the station building to the landscape and gardens.
In planning this work Council has been coordinating with other infrastructure providers to undertake planned upgrades of assets such as water and wastewater mains, power and telecommunications to help minimise any potential future disruption.
Phase 2 (complete).
Landscaping and road works of the area from the existing toilet to the Railway Station. This is also planned as a three month project from October to December.
Phase 3 (complete).
Starting February 2019 will see the development of the Civic Space covering the area from the existing gardens to the old library site and public toilets. Scheduled for completion in May 2019.
Phase 4.
Refurbishment of the Railway Station building including a community museum and tourism hub.
A video on the concept plan for this can be viewed below.
Phase 5.
Work on the shop verandahs and earthquake prone buildings.
The details including the start time of Phases 4 and 5 are still be worked on by Council with affected parties.
Phase Map
For more details please see the Work Phases map in the document links panel at the bottom of this page.
Taumarunui Northern Entrance
In addition to the revitalisation projects in the CBD along Hakiaha St, Council has been bringing forward other projects around town. The northern entrance reserve is an example of this.
Railway Station and Museum
This video shows the proposed concept plans for the Railway Station including the community museum and tourism hub.
Taumarunui Document Links