Reuse Shops
Reuse critical part of waste minimisation journey
The opening of Reuse Shops at Ruapehu Transfer Stations are a key part in enabling the reuse of items and diverting them from being sent to landfill in support of Council's Waste Management and Minimisation Plan and Zerowaste 2040 vision.
Currently there are Reuse Shops operating at the Taumarunui Transfer Station (operated by Council) and the Waimarino (Ohakune) Transfer Station operated by Ethical Waste (the contractor operating the Waimarino Transfer Station)
Both Reuse Shops have developed supportive communities and are becoming 'must visit' destinations for anyone who loves Op Shops, is seeking a bargain, or needs something for construction or another special project.
The Reuse Shops are also performing an important social role in providing good quality products at prices significantly cheaper than standard retail to whanau struggling with the high cost of living.
While both Reuse Shops are currently run independently they cooperate closely on everything from swapping ideas to items that may be better suited to each other's communities.
All money raised through sales is reinvested back into the development of the sites inc. hiring staff, waste minimisation education, and upgrading facilities.
Taumarunui Reuse Shop
The Taumarunui Resource Recovery Centre was opened in June 2021 with the support of volunteers and Council staff. It is developing with the incredible support of our community.
A central part of developing our reuse community has been the use of our Facebook. If you are interested in waste minimisation, the development of our Resource Recovery Centre and don't want to miss out on any bargains, 'like' and 'follow' our page. .
Opening hours
Open: Monday, Tuesday, Wednesday 10am-5pm, Friday-Saturday 10am-5pm and Sunday 1pm-5pm
Closed: Thursday and Public Holidays
What we accept and sell
We welcome household goods, toys (hard plastic and wooden - no soft toys please), DVDs, art, hardware, newer electrical appliances, construction and demolition materials, tools, sports and outdoor equipment amongst many other amazing and interesting things.
All reuse items must be clean, in working order and good condition.
No clothes, shoes or books please.
Cash and EFTPOS accepted.
See us before you dump it
If you are bringing things up to the Transfer Station help divert the maximum possible from going to landfill by dropping-by and seeing us first. We can quickly see if you have things suitable for the Reuse Shop. Anything that can be reused will save you money from needing to pay to dispose of it.
More info

Contact Emily on 027 203 1247


Waimarino (Ohakune) Reuse Shop
The Waimarino (Ohakune) Reuse Shop is operated by Ethical Waste the contractor who operates the site.
The Reuse Shop opened in April 2020 and has become a community hub for locals and visitors. The space is a great bumping space for all demographics of the community to meet like no other place in the district.
The Ethical Waste kaupapa is based on "people and the planet over profit". This approach is helping to make Ruapehu a more affordable and pleasant place to live and visit.
Opening hours
The Waimarino Transfer Station has summer and winter hours to cater for the ski season and influx of holiday makers
Summer (1 October - 30 June)
Mon 8am-3pm
Tue 8am-3pm
Wed 8am-3pm
Thu Closed
Fri 8am-3pm
Sat 8am-3pm
Sun 8am-3pm
Winter (1 July - 30 September)
Mon to Thu 8am-3pm
Fri, Sat and Sun 8am-5pm
What we accept and sell
We welcome all household goods and artifacts, toys, DVDs, art, hardware, newer electrical appliances, construction and demolition materials, tools, sports and outdoor equipment, clothes and shoes amongst other things.
All reuse items must be clean, in working order and good condition.
How it works
When you drive up at Ethical Waste with your unwanted stuff you will be met by one of our friendly staff to help sort what you have with you. Anything that can be reused and diverted from landfill we will send to the Reuse Shop while recyclable materials will go to be recycled. This will leave the minimum of residual waste to go to landfill and save you money on its disposal.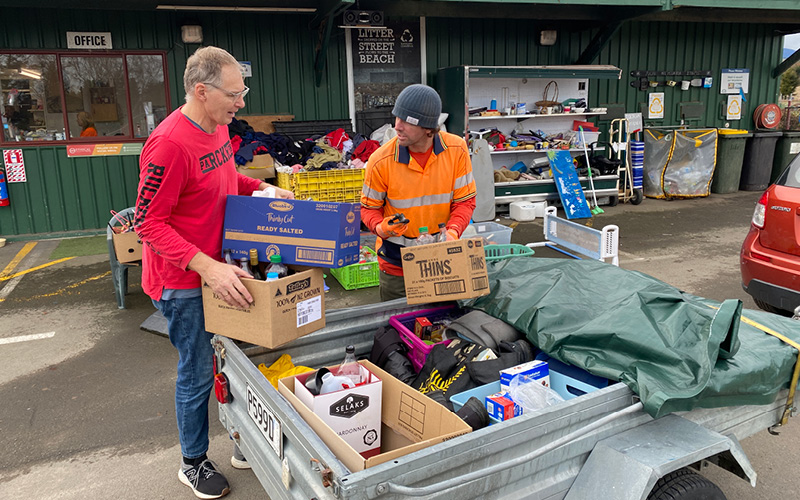 More info

Call Sam 06 385 8920
Key stats
Between 2018-2022 Ethical Waste has diverted 1,100 tonnes from landfill
This is the equivalent of:
110 hook bins
55 truck and trailer trips taken off our roads
Since its opening:
Landfill Diversion Rate has gone from 25% -60%
Employment has gone from 1.5 - 9 people all on the living wage or above.
Local spending at the Reuse Shop has gone from an estimated $40,000 to around $350,000 helping to develop the site, educate the community and provide local employment.