Zero Waste Challenge
Zerowaste2040 vision and kerbside food waste collection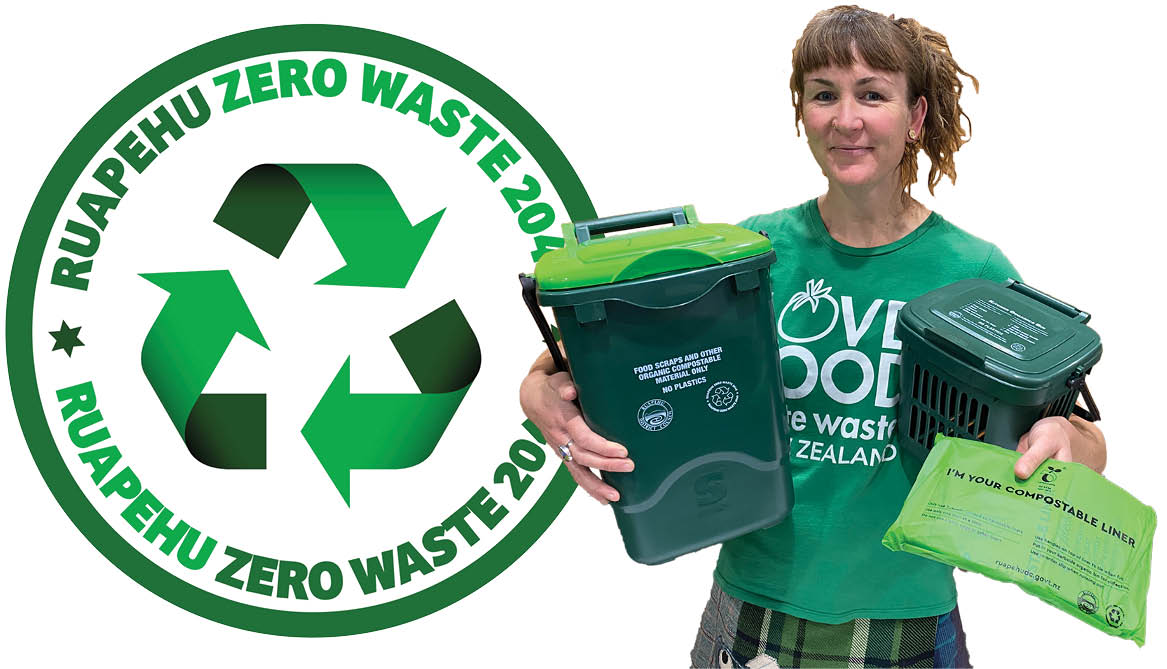 A central focus of the Waste Management and Minimisation Plan 2018/2028 includes an aspirational vision of Ruapehu working toward being a Zero Waste district by 2040.
The Zero Waste by 2040 aspirational vision was one of a number of key things brought about from the public consultation process.
Other consultation driven amendments included allowing for greater community involvement in the solid waste activity and the introduction of kerbside food waste collection.
Reduce, reuse, repurpose, recycle and compost!
As a community we can help ourselves and our environment in a big way by reducing, reusing, repurposing, recycling and composting. This is good for our environment and saves us in waste disposal costs.
1. Reducing
We could all use less and produce less waste. The reduction mantra' is:
Buy less,
Choose well and,
Make it last!
2. Recycling
Did you know that the energy saved by recycling one small aluminum can will run a lightbulb for 20 hours or half a gallon of gasoline!
Ruapehu has been making good progress on reducing the amount of waste that goes into the landfill by recycling but we need to do better if we are going maximise the life of our landfill.
Recycling items not only means they don't end up in the landfill but we help save on energy use, water, natural habitats and other precious resources.
If you are unsure whether an item is recyclable or not, scroll down and try using the handy sorter app on the Zero Waste Ruapehu website.
3. Reusing
Reusing things is a simple, pain free way to reduce your waste footprint and help maximise the life of our landfill. Reusable shopping bags are a great place to start.
If you have a baby or toddler in your whanau why not give re-usable cloth nappies a go? Council offers special discounted cloth nappy starter packs. Modern cloth nappies are easy to use, environmentally friendly and could save you thousands of dollars over the life of your baby.
4. Repurpose
Before throwing something out consider whether it can be used for something else.
5. Composting
We should all be composting all we can. Surveys undertaken by Council on what people throw out to landfill in their kerbside bags has shown that just over half of all rubbish being sent to the landfill was compostable.
What this tells us is that every household started composting where possible we have the potential to halve the amount of rubbish going to our landfill.
Be part of the solution!
We all have a part to play if we want to maximise the life of our landfill. It's not about being perfect but it is about making better choices.
There is heaps of helpful information available about how to reduce, reuse, recycle or compost. If you need help from Council email our Waste Minimisation Educator Emily HERE or give her a call via your local Council office.