Regional Growth and Accelerate25
Manawatu-Whanganui Regional Growth Study
Central Government's Manawatu-Whanganui Regional Growth Study was launched by Economic Development Minister Steven Joyce, Primary Industries Minister Nathan Guy and Maori Development Minister Te Ururoa Flavell on 31 July 2015.
For more information on government's regional growth agenda see the Ministry of Business and Innovation website.
Horizons Regional Council produce a monthly e-newsletter as a way of keeping stakeholders up to date with economic development work under in the region. The Growing Our Region newsletter can be accessed via this link on the Horizons website.
Nine major regional opportunities
The report identifies eight opportunities for growing investment, incomes and employment in the region with four immediately specific to Ruapehu:
Tourism and visitor services (primarily Ruapehu and Whanganui but also Rangitikei)
Sheep and beef farming and processing (entire region, particularly within Whanganui, Rangitikei, Manawatu and Tararua)
Land use intensification (Rangitikei, Manawatu, Tararua and Horowhenua)
Manuka honey (Rangitikei, Whanganui, Ruapehu and Tararua)
Fresh vegetables (Horowhenua, Rangitikei and Ruapehu)
Poultry and grain processing (Horowhenua, Rangitikei and Manawatu)
Affordable care and lifestyle for older people (initially in Horowhenua but also Whanganui)
Business process outsourcing and food innovation outsourcing (across the region but centred on Palmerston North).
Realising Maori potential
Regional strategic requirements
The report also identifies three strategic areas that will require strong and focused attention to enable these opportunities. These are:
Transport and distribution,
Productivity of Māori land, and
Growing business by building capacity, scale and innovation.
Accelerate25
The process of working with stakeholders to identify opportunities and then implement them has been done under the banner Accelerate25.
Project Teams were assigned to identify the best prospects for increasing investment, employment and incomes under each of the eight significant opportunities. Ruapehu was the lead agency for the Tourism and Visitor Services opportunity.
Out of this work has been developed the Accelerate25 Manawatu-Whanganui Economic Action Plan. The Action Plan provides a cluster of opportunities and clearly defined concrete steps that are designed to help boost Ruapehu's prosperity and that of the region.
On 14 December 2016, a "Tourism Action Plan Report" workshop was held for those who had participated in the preparation of the Report. The presentations are shown below.
Tourism Action Plan Report Presentations
Initial co-investment announcements
On 12 August 2016 the government announced the first series of projects that they would be supporting as regional co-investment opportunities as part of the Accelerate25 Manawatu-Whanganui Economic Action Plan. For Ruapehu these were:
$2 million to extend the Mountains to Sea Cycle Trail from Turoa to Ohakune plus $100,000 to help prepare a Destination, Marketing and Value Proposition' for the Region that extends the market assessment work already undertaken by Visit Ruapehu.
It is important to note that these initial announcements are just the starting point and that there are many other projects that Ruapehu is actively working on or that are in the planning stage that funding will be sought for.
These include:
A feasibility study to develop a multi-use recreational park in the Tongariro Forest behind Owhango.
A feasibility study on developing and promoting SH4 as the Adventure Highway.
Taumarunui River Walkway project with longer term plans to extend and upgrade into a cycleway.
Implementing free broadband in along the main street of Taumarunui, Ohakune and Raetihi.
Township revitalisation projects.
Council is now challenging Ruapehu stakeholders to identify other concrete projects that can be taken to government as co-investment opportunities.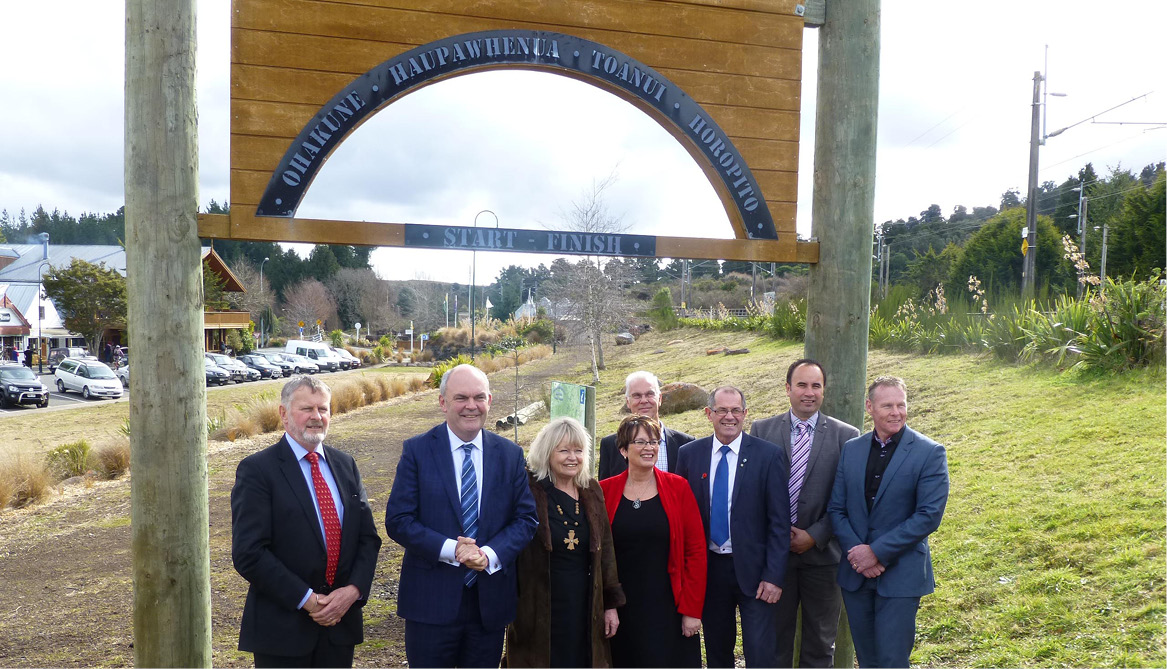 Launch of Accelerate25 Manawatu-Whanganui Economic Action Plan - Ohakune 12 August 2016
L2R: Malcom Inglis Acclerate25 Lead Team, Economic Development Minister Steven Joyce, Annette Main Whanganui Mayor, Di Grennell Accelerate25 Lead Team, Clive Manley Ruapehu District Council Chief Executive, Don Cameron Ruapehu Mayor, Kemp Dryden Chief Executive Ngati Rangi and Horizons Chief Executive Michael McCartney at the start of the Mountains to Sea Cycle Trail that will be extended up to Turoa ski area.