Resealing Programme
Why reseal?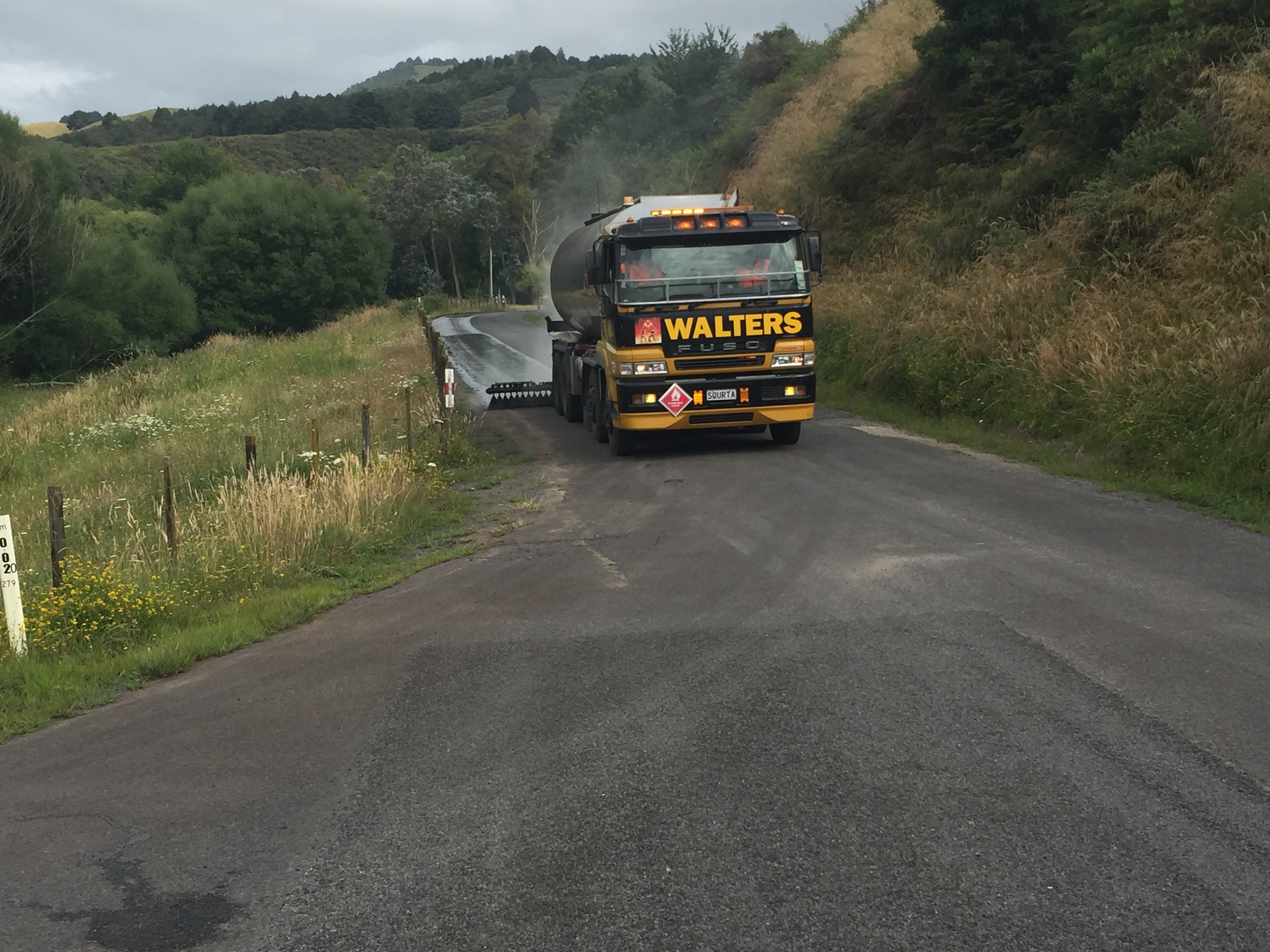 Every year, the Ruapehu District Council carries out a resealing programme over summer as part of a planned road pavement preventative maintenance programme. People who don't understand the process often question why this is necessary.
The seal on a road is like paint on your house - it keeps water out of the structure underneath. Like paint, the seal breaks down over time and starts to let water in. When the surface of a road starts to break down it is time to reseal the road which makes the surface waterproof and reduces the rate of further deterioration. The newly sealed surface can be expected to last about 14 years before requiring a further reseal.
The ideal time to reseal is just before any damage occurs, so your road may still look to be in good condition before the reseal is undertaken. Council reseals up to 30 kilometres road each year at a cost of $1.45M.
Ruapehu roads are generally resealed with a stone chip seal. The process begins with minor repairs being carried out a couple of months prior to resealing. Stone chips are stockpiled, traffic control is established, hot bitumen is sprayed and stone sealing chips are spread and rolled in. Traffic is then allowed on the road to bed the new seal. Finally, excess sealing chips are swept away within a week or so, road marking is reinstated soon after and temporary traffic management removed.
If you want to find out more about this year's reseal programme please contact Andrea Nicol at Ruapehu District Council on 07 895 8188 or email us.
Summer resealing sites 2020/21 (as of 21/12/20)
Job
Road/Street
Start RP
End RP
Length (m)
Status
Ohakune Urban
2
Thames Street
182
269
87
Complete
Rimu to end of seal
Ohura Rural
3
Paparoa Road
7000
12200
5200
Complete
3.1
Paparoa Road
13080
13186
106
Complete
Kirikau Junction
Raetihi Urban
4
Ballance Street
11
348
337
Complete
Seddon to Mt View St
5
Ballance Street
348
666
318
Complete
Mt View St to Grey St
Taumarunui Urban
6
Cross Street
217
245
228
Complete
Te Peka to end
8
Tarrangower Avenue
0
227
227
Complete
Manson to Ruapehu Cres
9
Tarrangower Avenue
227
336
109
Complete
Ruapehu to Golf Rd
Waimarino Rural
10
Middle Road
7751
10415
2664
Complete
13
Oruakukuru Road
14983
18284
3301
Complete
Starts at SH4 seal end
13
Pipiriki Raetihi Road
8290
10490
2200
Complete
Starts at Waipuna Rd
13.1
Pipiriki Raetihi Road
10490
13090
2600
Complete
13.2
Pipiriki Raetihi Road
13090
16428
3338
Complete
Waiouru Urban
14.1
Rangipo Street
0
50
50
Complete
Asphalt - SH1 to Caltex
14
Rangipo Street
50
443
393
Complete
Caltex to Ngauruhoe St
15
Ruanui Street
0
45
45
Complete
Asphalt - SH1 to Z
16
Ruanui Street
45
279
234
Complete
Z to end
Total all areas
21,437
Please note RP stands for Route Position i.e. How many metres along the road.