Road Works and Conditions
During Covid 19 Alert Level 4 and 3, Ohakune Mountain Road (OMR) will be closed. Under Level 2 and 1 OMR is open.
Members of the public are advised to check the status of roads before they start their journey, as some may be closed. For State Highway information people can call 0800 4HIGHWAYS (0800 44 44 49) or visit:
www.nzta.govt.nz/traffic/regions/8
Temporary speed limits are used on active sites for the safety of the road users and the contractor's staff. Please follow the Temporary Traffic Management that is in place.
Road Closure
Ongarue Waimiha Road, from SH 4 to the intersection with Ongarue Village Rd will be closed on Thursday 14 October, 9am to 4pm.
Alternative route is Ongarue Back Road.
Road Improvements
ROAD IMPROVEMENTS NOTIFICATION: RIMU STREET FROM MIRO STREET TO OHAKUNE STATION ROAD.
Council's roading contractor, Jilesen Group Ltd have been improving Rimu street through Thames Street from Miro Street to Ohakune Station Road.
The work has involved earthworks, road widening, and concrete kerb & channel with a new footpath on one side.
Council advises motorist to adhere to the temporary speed restriction and drive to the road conditions accordingly.
Council does apologise for any inconvenience this may cause If you have any queries please contact Andrea Nicol at Ruapehu District Council on 07 895 8188 (ext 233) or Gerrie Knoetze at GHD Limited on 07 896 0125.
Pavement Reconstructions
Poro O Tarao Road
Contractors have started with earthworks on this pavement rehabilitation site from 8.15 to 9.33km. Temporary Traffic Management is in place until the contractor will be back to finish the pavement construction. Please follow all speed limits.
Turaki Street Carpark

Construction of a larger carpark is completed.
Simmons Road Footpath
Ruapehu DC is upgrading the pedestrian network along Simmons Road. Upgrading the network will create safe and accessible walking facilities which helps make our town more liveable, support tourism and contribute to healthier communities.
Downer are currently installing this footpath. Please be considerate of our workers when passing through Simmons Road.
Doing this work is part of continuously improving the footpath and creating an accessible footpath network.
Emergency Works
Much of the Ruapehu Roading Network is ever susceptible to slips and dropouts due to the environment that we live in.
Crews may respond at any time to urgent jobs elsewhere in the district to clear slips and fallen trees from roads, and may leave the above sites unfinished but will return to complete once other sites are made safe. Please follow all Temporary Speed Limits and Temporary Traffic Management.
Sealed Roads
Seal repairs for the 2021/22 construction season are currently being programmed.
Unsealed Roads
Jilesen Contractors have put a third grader on the network to catch up with the unsealed road grading.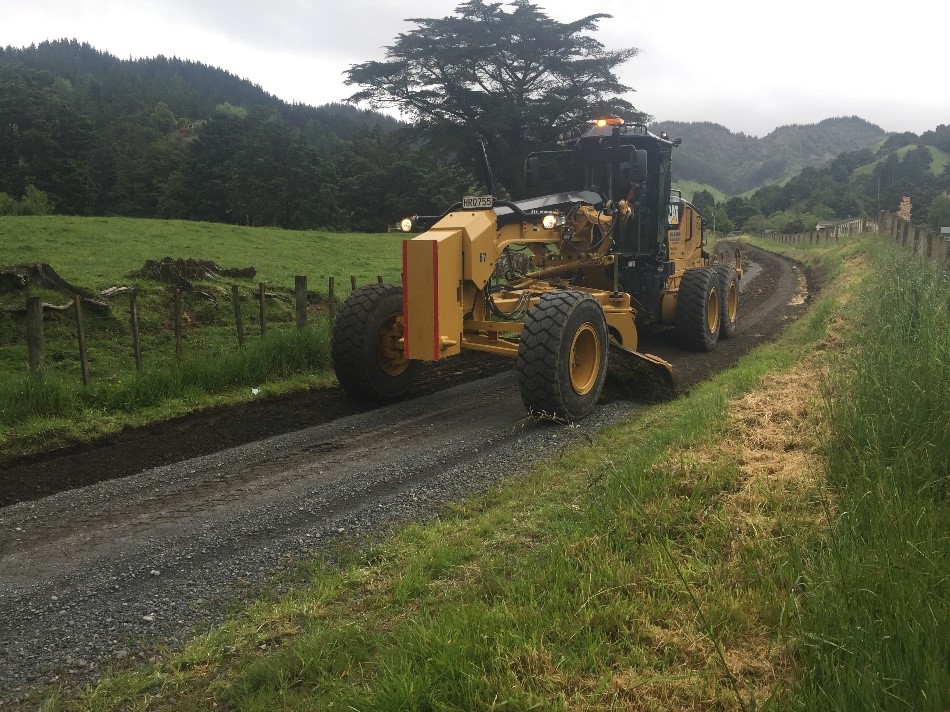 Roadside mowing
The wire and rubbish hidden in the long grass is the main cause of fires during roadside mowing, it would be helpful if people could keep their roadsides clean and clear. There is also scrub along the roadside which has a high fire risk. In the meantime they will focus on the blade work programme to remove larger branches, overhanging and encroaching vegetation.
Updated 21/06/2021