Gardening
Resilient communities produce and share their own food

Why is gardening useful?
It can reduce your food bill. Food gardening can give you access to fresh, tasty and healthy food and can also reduce your weekly shopping budget.
It can keep you healthy. Gardening can increase your personal resilience and ensures a healthy diet regardless of your economic circumstances.
It keeps you fit. Gardening can provide gentle exercise and is a good activity to do outside without the cost and strain of having to go to a gym.
It's good for the environment. Maintaining a chemical free garden can enhance biodiversity and helps look after our bird and insect populations by giving them habitats.
It's cheap. Nature doesn't need stuff from the shops to flourish. You can build a garden from recycled materials, save or swap your own seeds, propagate your own plants and make your own compost and fertiliser.
It's good for your mental health. Gardening is creative and helps you connect with nature's beauty in a peaceful environment. It gives you the satisfaction of nurturing and caring for something.
It can inspire others. When you are able to gift a bunch of flowers to a friend, or share kai you have grown, it may inspire others.
There are some great nationwide initiatives that support this kaupapa:
Crop Swap Aotearoa: brings together backyard gardeners, home bakers and food foragers for swapping and sharing high quality local food on a regular basis: For more info on Crop Swap Aotearoa:
We have a crop swap based at Volcano Vibe Collective in Raetihi. Contact Barbara on 027 829 8973
Community Fruit Harvesting: We hate seeing fresh fruit go to waste when many people are unable to afford food for their families. Community Fruit Harvesting is a community group that picks unwanted fruit from backyards and orchards around New Zealand and shares it with those in need. See Pickfruit.co.nz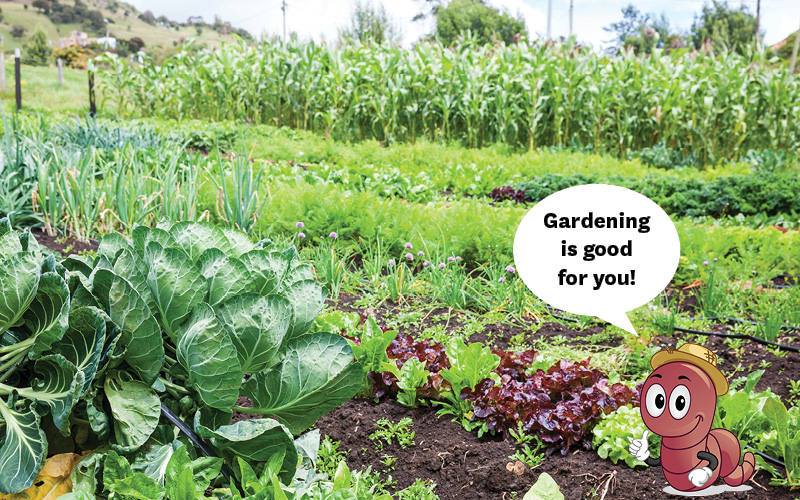 No Dig Gardening
No dig gardening is:
A soil building exercise that creates rich deep fertile soil,
Easy to set up and requires very little ongoing maintenance,
A way to recycle kitchen scraps and garden waste,
Able to be built in a raised garden bed, on the bare ground or in a container,
Water efficient.
A no dig garden' follows simple natural processes of soil building, called deposition and decomposition. A variety of organic materials is laid down by the gardener in layers, lasagne style'. The materials can vary based on availability, but consist of alternating, successive layers of brown' (carbon-rich) and green' (nitrogen-rich) material. The material breaks down to form organic humus - the perfect growing medium!
How to build a no-dig garden:
1. Gather a pile of carbon and a pile of nitrogen
| | |
| --- | --- |
| Nitrogen | Carbon |
| Paper, Newspaper, Cardboard | Fresh grass clippings |
| Hay | Fresh vege scraps |
| Dead leaves | Manure |
| Dried grass clippings | Green leaves |
| Dried Ponga fronds | Blood and bone |
| Straw or Pea straw | |
| Pine needles | |
| Chip mulch (small, woody) | |
2. Prepare the area - if it is grassy trample the grass; if there are invasive weeds dig them out
3. Completely cover the prepared area with wet cardboard or newspaper or carpet.
4. Then lay a thick layer of carbon, followed by a thinner layer of nitrogen and so on until you are 20cm above the edge of your garden bed. Water every layer well.
5. Make the last layer carbon.
6. Add a layer of compost to plant into immediately if you wish, OR leave out and cover the stack with sacks or an old sheet and leave it for about 8 weeks to break down a bit.