Phase out of hard-to-recycle plastics and single-use items
Alternative plastic choices
Practical alternatives are readily available for some of the items and plastic types being phased out. Many businesses and individuals have already made changes. Alternatives may include reusable items (eg, metal spoons or reusable containers), non-plastic alternatives or easier to recycle plastics (such as types 1, 2 and 5 which are accepted for recycling in Ruapehu) instead of PVC and polystyrene packaging.
Guidance on single-use plastic products banned or phased out from July 2023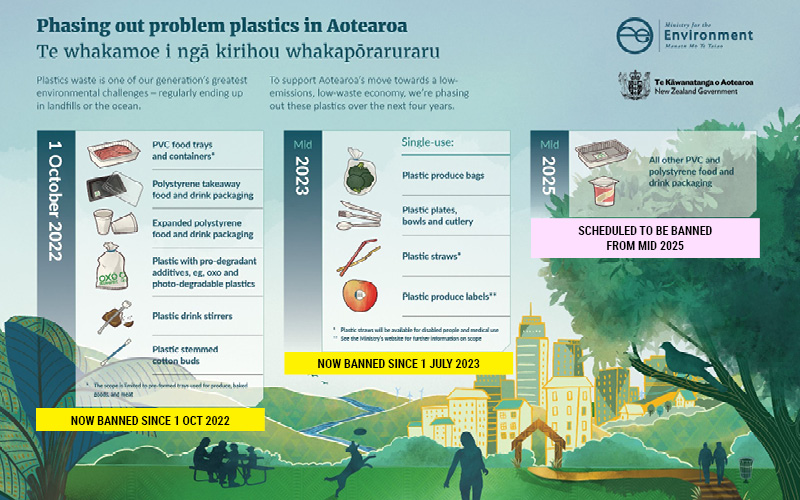 Compostable and bio-based plastic alternatives
Bio-based and compostable plastics have emerged as alternatives to some traditional plastics. Compostable alternatives often require processing in a commercial composting facility to break down. These are not available everywhere in Aotearoa New Zealand.
In general, bio-based plastics behave in a similar way to conventional plastics and will not degrade in the same way as their original source material. If these plastics become litter they can harm wildlife in the same way as conventional fossil fuel plastic products.
The phase out of drink stirrers, plastic-stemmed cotton buds, plastic produce bags, plastic plates, bowls and cutlery and plastic straws extends to all types of plastic including compostable and bio-based plastics.
Businesses are encouraged to look for alternatives to the hard-to-recycle plastics being phased out to consider reusable or recyclable alternatives in the first instance.
What plastic types can be recycled in Ruapehu?

The illustration below shows the different types of plastic and how recyclable they are in Aotearoa New Zealand. Plastic types are usually identifiable by a small number inside an arrow triangle.